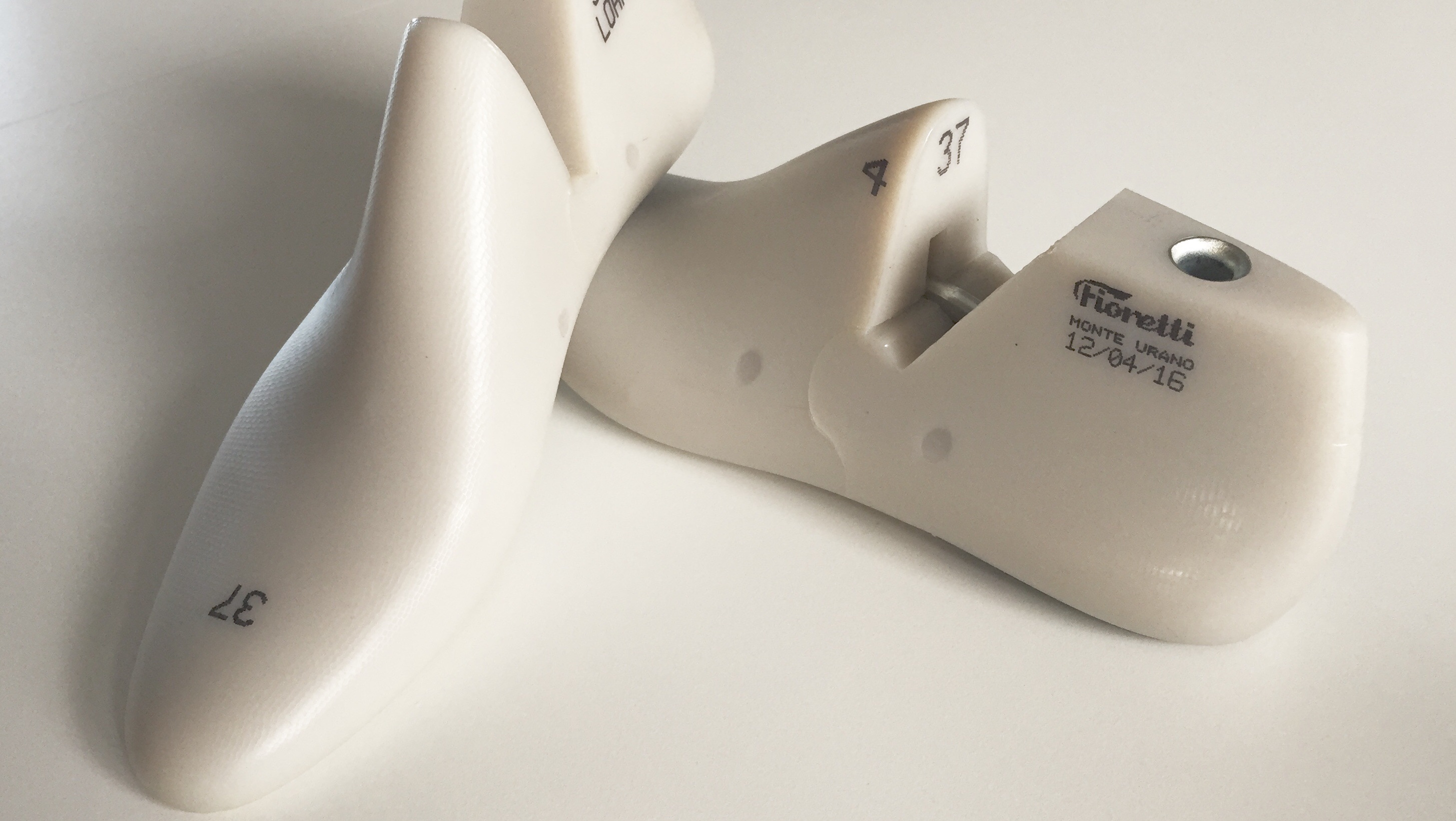 Der skulle så alligevel gå yderligere to uger fra sidste indlæg, men nu er de her endelig, mine længe ventede skolæster. Det har taget over seks uger fra jeg bestilte dem, og flere gange har jeg overvejet at trække betalingen tilbage, men har i sidste ende ladet tvivlen komme fabrikken til gode. Det var jo heller ikke fordi jeg bare lige kunne gå ned I den lokale "Shoemakers 'R' Us" og købe et par, så jeg var ligesom lidt nødt til at håbe på at de ville komme frem i sidste ende.
Jeg var meget spændt på at se dem da det kan være svært at vurdere faconen udfra et billede. Snuderne er lidt mere spidse end jeg havde forestillet mig, men det passer mig faktisk rigtig godt. De har en smuk facon som kan bruges til mange forskellige typer sko.
---
Yet another two weeks had to go by since my last blog post, but finally my shoe lasts are here. It took over six weeks for them to arrive, and several times I have considered withdrawing my payment, but in the end I let the factory get the benefit of the doubt. It's not like I could just go to the local "Shoemakers 'R' Us" to buy a pair, so I kind of had to hope for them to arrive in the end.
I was very excited to see them as it is quite difficult to determine the shape from a photo. The toe is a bit more pointy than I imagined, but it actually suits me very well. The shape is very beautiful, and suitable for many different types of shoes.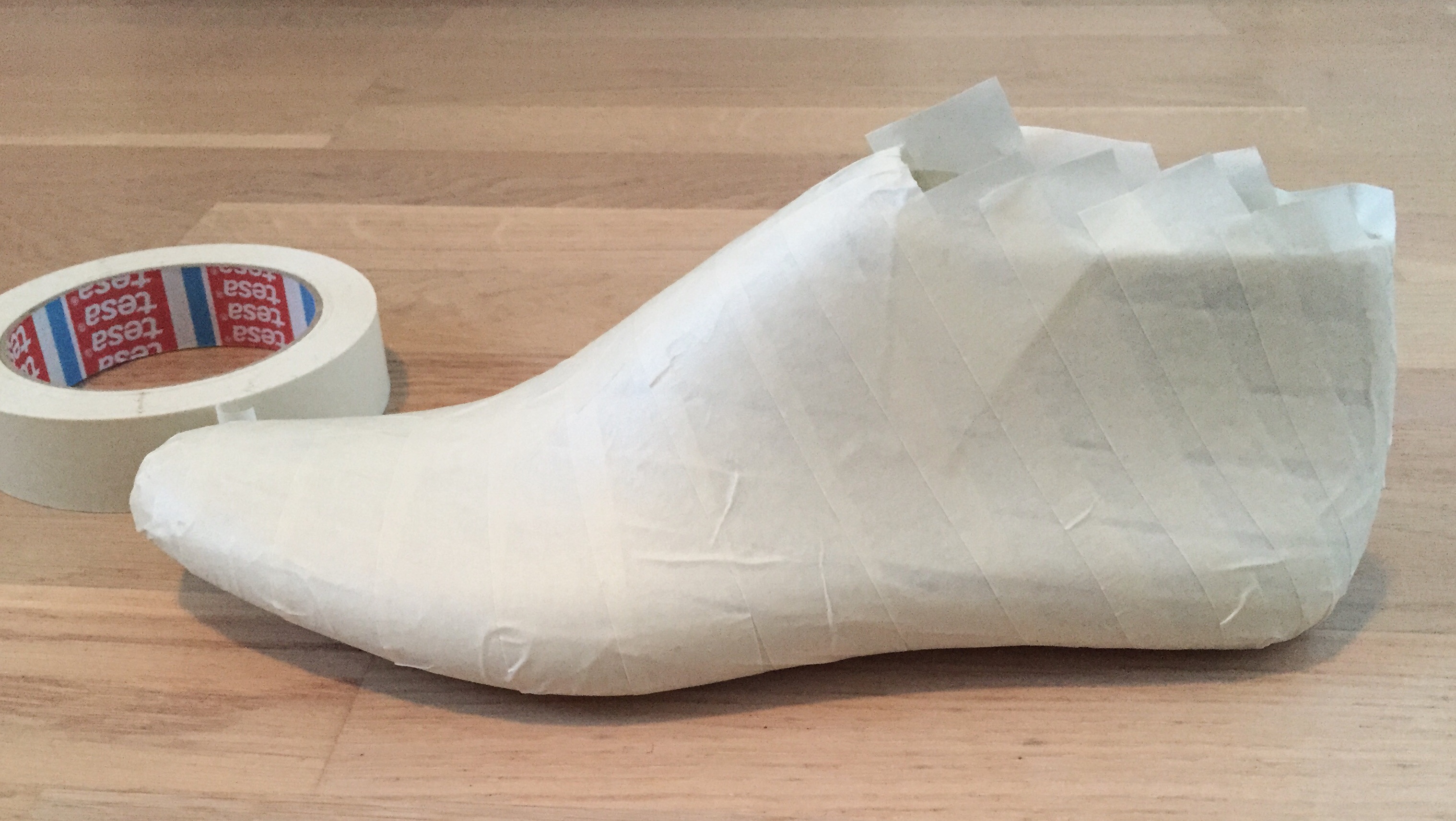 Ventetiden har jeg fordrevet med, at tilegne mig mere viden om alle de processer der ligger i det at håndlave sko. Jeg var derfor hurtigt igang med de indledende øvelser i design og konstruktion af mit første par sko.
Første step består i at beklæde læsten med malertape. Dette findes der nok omtrent lige så mange fremgangsmåder på, som der findes skomagere. Jeg stykkede selv et par metoder sammen som jeg syntes gav mening for mig. I bund og grund handler det om at få det så glat og jævnt fordelt som muligt. Jeg endte vist ud med omkring 4 lag, men er overbevist om at 2-3 stykker kan gøre det.
---
While waiting, I have been doing even more research on the process of shoemaking. My preparations let me to a quick start on the first steps of designing and constructing my first pair of shoes.
Firstly, the last is covered with masking tape. My guess is, there are as many ways of going about it, as there are shoemakers. I put together my own version which felt right for me. The bottom line is, it needs to be as smooth and even as possible. I ended up having around four layers, but I believe two or three would be just as fine.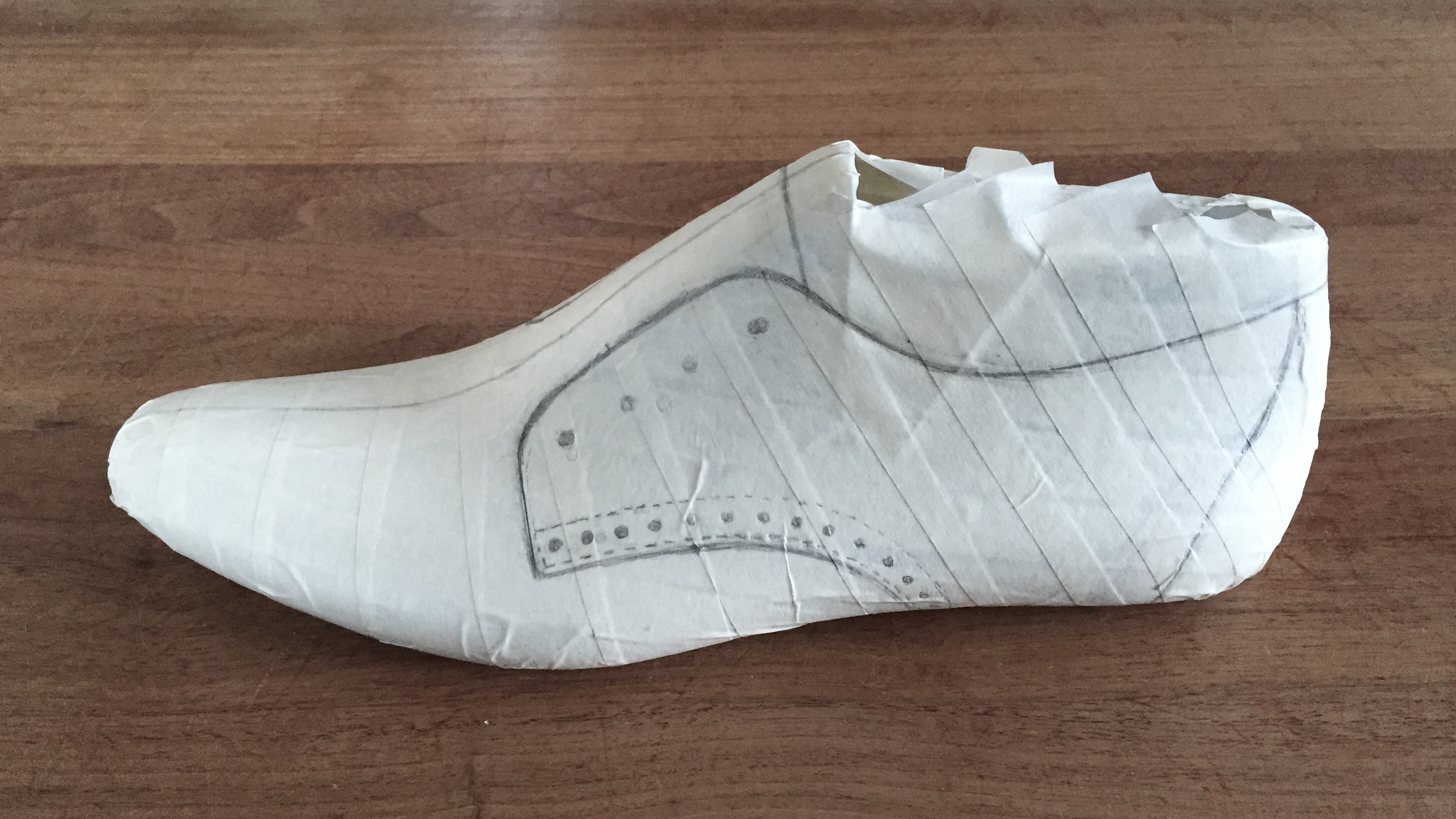 Dernæst til den virkelig sjove del – at tegne skoens linier og proportioner. Som at tage hul på et blankt, tredimensionelt lærred. Efter at have leget med lidt forskellige modeller og idéer nåede jeg frem til en klassisk snøresko med forenklede oxforddetaljer langs siderne. I mit næste indlæg vil jeg vise jer hvordan dette overføres til en flad skabelon.
Tak fordi I gider følge med i mit nørderi.
---
Then for the really fun part – drawing the lines and proportions of the shoe. It's like breaking in a blank, threedimensional canvas. After playing around with a few different models and ideas, I came up with a classic laces shoe with simplified Oxford details along the sides. In my next post I will be showing You how to transfer this to a flat pattern.
Thank you for following my geeky work.